Update - February 1st 2018
---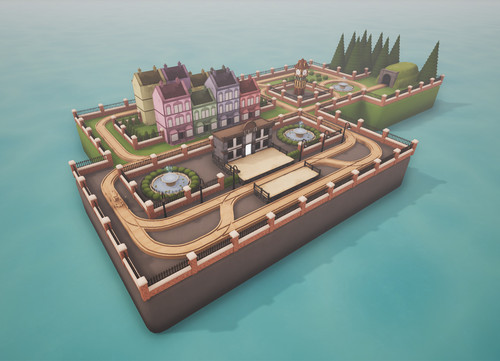 Firstly I want to say thanks for all the support the game has gotten so far, the last few months have been great and I'm sure the following year (and beyond) will be full of wonderful things!
In order for Tracks to continue getting better, sometimes I have to postpone fancy new features to think about the long term good of the game. Since the Christmas update I've been hard at work upgrading Tracks to the latest version of the Unreal engine.
This often isn't a straight forward process and comes with all manner of new issues to work through, but it's worth doing because of all the new features it offers me, which in turn allows me to make Tracks the best game it can be for all of you.
So best case scenario is this update working just like the previous version. If you experience any new issues, please let me know in the forums. There may be some teething problems so patience and forum bug reports are greatly appreciated as always.

That said, I still have some nice new things which will hopefully tide you over until the next major content update coming soon! Rest assured that I am hearing the requests for some more things to do, the update after this one will be focused on objectives, gamemodes etc.

New Object: Tunnel
Drop down a couple of tunnel entrances and click on two to link them up, the train will then travel between them.
New Feature: Floor texture
The Scenery menu now has some alternatives if you don't want the plain white floor:
There are also new matching Terrain Blocks for each of these.
New Feature: Click
I'll be adding various actions to each object to happen when you left click on them. Currently:
Signs : Edit text
Random House : Randomise
Tunnels : Click on two tunnels to connect them
Music Notes : Play their current note
New Environment: Modern Apartment (Night)
A night time version of the Modern Apartment with some added lights and candles.
Upgraded to Unreal Engine 4.18
4 new songs added to the game
Improved interface/navigation

Pressing Escape closes whichever gameplay menu you have open
Seamlessly switch between gameplay menus using key-binds or the new buttons.
Level Select now shows which gamemodes are available in each environment

Various improvements to Starting Point (can now be rotated
Added an animation for the Music Note
Added a confirmation after you press Clear Track to prevent accidents
All non-static objects now have tooltips
Added development Twitter and Tumblr links to main main
Passenger objectives now have thumbnails
Added a counter for the Passenger Jumps objective
Game name and icon now correctly appear in taskbar/task manager
Various new sounds for objects/menus
Couple of Object thumbnails
Terrain Blocks are now multi-place objects
Fixed blank signs causing problems when they are loaded from a save
Fixed the music mute option resetting between level loads
Fixed Fog Density not correctly loading the first time
Fixed Spawn menu warnings in Passenger mode preventing menu closure
Fixed the position of the table in Bedroom to match the original version
Fixed Save game timestamps and thumbnails not updating when they are overwritten
Removed a bunch of unused assets which were being included in the game
Fixed an issue with placing passengers in front of a platform
Improved the behaviour of speedometer when reversing
Single passenger spawners no longer allow you to stack/overlap passengers
Objects which were being placed are now cleared on entering train mode
Fixed being able to place Stations in Passenger mode
Files
Tracks - v0.2.0 (32Bit).zip
302 MB
Feb 01, 2018
Tracks - v0.2.0 (64Bit).zip
326 MB
Feb 01, 2018
Get Tracks: The Train Set Game